"We're History"
A Founder's Memoir
by Peter Castle

In 1969, I discovered that there existed 16mm versions of many of the popular films screening in cinemas. At the time I was on the Students Representative Council and suggested that the SRC could try showing films on campus. Two screenings took place that year (from memory, two of the movies were "Carry on Cleo" and "The Heroes of Telemark") and their success indicated regular screenings were possible. For 1970, I proposed double features every two weeks and requested a budget of $500, as I would have to rent one projector from a local camera store since the University only had one available. We started with the film "Casino Royale", using the only lecture theatre on campus (now building 14). By looking at the university timetable at the time, it was found that the first years (the largest number of students) had fewest classes on Wednesday nights so screenings would take place on that day - and still do to this day. By the end of the year, it had cost only about $200 to present the whole program, but the SRC felt that was too much.
Thus in 1971, The Film Group was formed and affiliated with the Union. Membership was set at $4, and associate membership (admission) was 30 cents. The opening film was "The Best House in London", and the audience was about 170. A large calico sheet was used in the lecture theatre so that a full-sized cinemascope picture could be presented. As part of the affiliation, the club requested that two matched 16mm projectors with changeover be purchased. These became the basis for screenings until the group changed over to 35mm. After a couple of years of screenings in the lecture theatre, the move was finally made to the Union Building Common Room (demolished to make way for the current bar) in 1972. In a room about 15m square, an 8m curved screen (constructed by a tent company, stretched on a steel frame - total cost $105) was set up across one corner, with the projectors in the opposite corner. Capacity was about 200 with comfortable lounge chairs in the front rows about 2m from the screen. Several times during this period, the Union Hall, with a capacity of 350, was used for spectacular films such as "Woodstock" and "2001: A Space Odyssey". At that time the hall had a stage and a large curved cyclorama (not white but rather a light blue) at its western end.
In 1975, the Union Hall was modified by building a small balcony of 108 seats plus a projection booth for 16mm films, reversing the direction of the hall with a very large roll-down screen at the eastern end. A licence for commercial screenings of 16mm films was approved in April, 1977. The Film Group was now in its final location - well not quite. And although our future was looking a little better, all was not rosy. I can recall one night in 1977 with a small audience where, at intermission, we pleaded with them to go home so that we could save the screening cost (including the cost for rental) of the second feature. Here are some pictures from around this period.
In 1978, the balcony and projection room were modified for the presentation of 35mm films, with a pair of Italian made Pion projectors purchased by the Union. The first 35mm film screened was "Equus" in August, 1978. With this first screening, the Group started drawing full houses on regular occasions. This meant that the club started to become more financial and were able to become more independent of Union support. By 1979, it was realized that the Pion projectors could not be fully installed and were replaced by the supplier with Cinecita projectors, an Indian-made copy of the U.S. Century brand.
In 1980, new speakers and amplifiers were purchased from accumulated funds, and an Eprad stereo processor (a cheaper "compatible" decoder), allowing us to show films in Dolby stereo. In 1982, one of the Cinecita projectors developed a problem which turned out to take 6 months to be repaired. Unable to perform reel changes and produce a continuous presentation, an EPRAD make-up table (the first of three) was purchased, enabling each feature to be joined together into one continuous film. Even though each film was generally only screened once, this began the regular presentation of a full film without switching projectors, which continued after we had the second projector up and running again. In 1984, a new screen was purchased complete with curtains. In 1985, one of the Cinecita projectors was retired and a Ballantyne Pro-35 projector was purchased. In 1987, curtain motors were purchased so that the entertaining sight of a person going to the front of the hall and manually opening the curtains ceased. In 1990, it was decided to upgrade the stereo processor to the "real thing" and a Dolby CP55 was purchased along with an SRA5 processor to decode the new Dolby SR soundtracks which provided improved sound. This occurred at about the same time as one of the local commercial cinemas did the same.
During the 80's an eventful change occurred to the outward appearance of film screenings. From the beginning in 1971, screenings had always been presented as Film Group screenings. It was decided that a more "catchy" name was needed. So I chose UniMovies and designed the logo still used today. Most patrons probably now associate UniMovies with the screenings, although the club is still technically The Film Group.
In 1992, the most dramatic time for UniMovies came to pass. The Federal Government announced that there were funds available for university projects provided they were already in the planning stages and could be considered "refurbishments" of existing buildings. The University had been discussing the construction of a "Great Hall" but could see no way in the near future of ever funding it. So a proposal was put to the Government to "refurbish" the Union Hall to more than double its capacity. And Canberra approved it. The refurbishment involved demolishing the building down to its foundations and rotating the new building so that it would run north/south. With about $4.5 million, a pretty good building was on the cards. The Film Group approached the project with some trepidation. We had regular shows which filled the existing venue (at 350 capacity). What would happen in a venue with a capacity of 1000? We had a sound system which could handle such a small hall. What could we do for such a big new hall? At this point, a special vote of thanks should go to the Secretary-Manager of the Union at the time, Noel Diffey, who put his support behind the opportunity to create a venue for showing films which would be a major improvement to the existing building.
As sound was always the major problem in the existing hall, I proposed that we aim at the best and try to get THX certification for the new venue. Taking the plans for the new Hall to Skywalker Ranch, I organized LucasFilm to design the screen and sound system for the new hall. The Union and the University covered most of the costs for the new lamphouses and the sound system but the members and friends of the Film Group volunteered hours of their time to install the new speaker system, all 42 individual speaker enclosures, and laying over 4km of cabling. The new screen's size was determined by taking the existing lenses and calculating the change in picture size due to the increased building size. In June 1992, we had our last screening in the old hall ("Hook") and went into limbo for over 12 months while the new building was built. Some 16mm films were screened during the period but no attempt was made to present a typical season of films at such a reduced presentation quality.
In June 1993, we presented our first program in the new venue ("A Few Good Men"). And we got a similar attendance as we were getting in the old venue. But this was in the break so we waited to see what would happen when we returned for Spring Session. Our first in-session screening on 21st July ("Indecent Proposal") drew an audience just under 700 !!! The new venue was a complete success. The dramatic change in presentation quality was the reason. Our new venue had 4000 watt lamphouses, a 16m wide scope screen, and over 9000 watts of audio (24 individual channels), with 4-speaker left, centre, and right screen channels (all bi-amped), 6 subwoofers and 24 surround speakers. Unfortunately, the reverberation times in the venue exceeded THX specifications and until this day, despite modifications to the acoustic properties of the hall, the building has not been certified.
About this time, Dolby released the first digital sound system. But with the new venue's costs, UniMovies did not have sufficient funds to invest. But then Steven Spielberg announced that his new film would introduce another digital system, DTS, at a lower price - one we could afford. So when we screened "Jurassic Park" on December 1, 1993, we became the first digital sound cinema in Wollongong. By April 1994, the increased audience sizes provided increased funds and we purchased a Dolby DA10 digital processor. The first Dolby Digital film screened was "What's Love Got To Do With It". The Gala cinema beat us to Dolby Digital by a few weeks. In February, 1995 we finally replaced the one remaining Cinecita projector with a new Ballantyne Pro-35 to match the one purchased in 1985.
To complete the digital systems, we purchased the most expensive - Sony's SDDS - in October, 1995. Records seem to suggest that the first film screened in SDDS was "First Knight" on October 18, 1995. We were the fourth cinema in Australia to install this system. At that time, each of the three competing digital sound systems appeared on different films, so that all three were needed to ensure that any film with digital sound could be shown. It wasn't until "Independence Day" that the other local cinemas installed digital systems of their own. To this day, UniMovies are the only cinema in the Illawarra with more than one form of digital sound.
In 1997, we updated both the Dolby and DTS systems with, respectively, a CP500 digital/analog processor and a DTS-6D processor. The only addition to the sound system since that time was a Panalogic SP23 EX processor to extract a rear centre channel from the left/right surround channels.
Apart from some early experimentation with video in the seventies, it wasn't until 1998 that UniMovies considered the possibility of digital cinema. In January of that year, we purchased a Sony DLP projector and started showing computer-generated slides and music videos (replacing CD music prior to movies and at intermission). We also purchased VHS, SVHS, BetaSP, Laserdisc and DVD players and a domestic digital processor, so that digital sound for video could be presented using our sound system. We can also present digital television broadcasts. In January 2002, a newer, more powerful video projector was purchased (JVC D-ILA), and this projector was upgraded in 2003. In late 2006, we again upgraded our video projection with a Panasonic DW-10000 full HD projector. Prior to that we also installed a Panalogic media server to enable screening of e-cinema movies. This was replaced with a CineX server in 2008 (later reset to run CinemaLogic software).
In 2003, we replaced our first Ballantyne Pro-35 with a new Kinoton FP-25E 35mm projector, using 4000 watt projection lamps. The integrated Kinoton film tower provided the facility to present all films as one continuous show. This also enabled us to present all three digital formats through the same projector. (Up until this time, we had Dolby and DTS on one projector, and SDDS and DTS on the other.) Pictured below are the Kinoton 35mm projector and several of our volunteers setting up and breaking down a 35mm feature.
In 2009, our biggest change occurred. We upgraded to Digital Cinema. Our Panasonic projector was sold to assist in the funding of an NEC1600C-A DCI projector capable of displaying 2048x1080 images at 17000 lumens. This was fed from a GDC SA-2100A DCI server which includes 3D capability and 4K upgradeable. The first screening of "Up" and "G-Force" was held on 25 November, 2009.
Facilities for running 3D screenings were installed in March, 2010, with shutter glasses being the method used. The first screening in 3D was on 9 April, 2010, appropriately being a second screening of "Up".
While we relied on 35mm projection, we provided all three digital audio systems (Dolby Digital, DTS, and SDDS) and we were the only cinema in the area with all three and the only one with SDDS. With DCinema audio is now uncompressed digital. Pictured below is our sound rack with Dolby CP500, DTS-6D, and SDDS DFP-2000. Our amplifiers are 12 QSC 385-watts per channel stereo amplifiers feeding bi-amped Electrovoice screen channel speakers (each with twin horns to cover the large venue), 6 ElectroVoice subwoofers, and 24 Krix surround speakers. The drivers in the screen channels were replaced with Krix drivers in 2016. Below is also a picture of our first dCinema projector, plus a picture of our input rack housing players for digital cinema, BluRay and DVD, BetaSP, eCinema, plus HD digital television.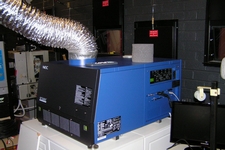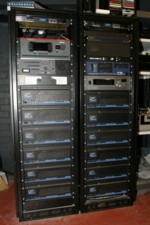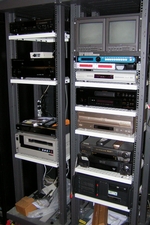 In 2012, we updated our digital projector (with a considerable loss on the sale of the 1600) to the NEC3240 with 4K resolution and increases the brightness from 17000 to 33000 lumens, requiring 7kW lamps. The first screening in 4K was a corporate screening of "Argo" on November 30. To enable this upgrade, and to enable HFR (high frame rate) 3D, our GDC server was also upgraded to an SX-2000AR. We have also removed our "TLA" crossover and the SP23, and retired our CP500 by purchasing a Datasat AP20 sound processor with true 7.1 sound now being provided. While we still have the capability to show 35mm film it has not been shown since 2010. (The CP500 would have to be reconnected and equalised to allow for 35mm.)
Visit About Us to see some images of our current setup.
Apart from our presentations, we also have improved our ancillary facilities. We have used a computerised ticketing system for many years (written in-house) using Macintosh computers. In 2003, a student project in Computer Science did attempt to update this to a platform-independent system, and this led to the current version of the original program, now running on PCs.
In February 2000, we invested in refrigeration equipment to store and sell Dippin' Dots, an imported ice cream product that has proved amazingly popular. In September 2001 we bought an automated coffee machine, providing fresh ground, fresh brewed coffee (and hot chocolate). In 2012, we updated this to a Saeco Phaedra, with fresh milk capability. These purchases can be considered to have been made from profits from the sale of refreshments.
While I am still involved in running UniMovies, the success of the club really is a result of the support of all the members of the executive over the years. Here's a list of those people who helped in the formative years: Steve Cliffe, Don Findlay, Peter Gray, Steve Harrison, Dave Henderson, Des Jamieson, Ross Nealon (dec.), Gary Pallister, Ian Piper, Jeanice Rutherford, Geoff Silburn, David Wilson, Richard Wilson.