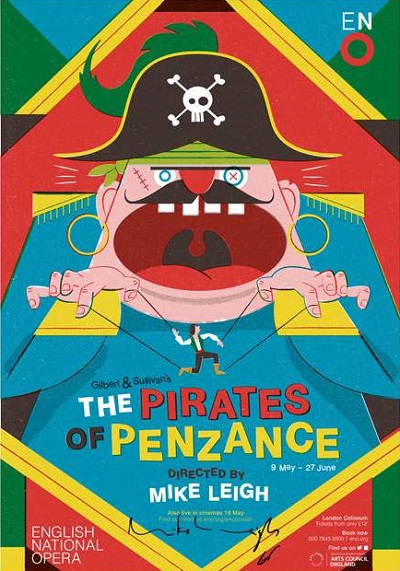 Director:
Mike Leigh
Writer:
Gilbert & Sullivan
Starring:
English National Opera
Released:
July 11, 2015
Rating:
Runtime:
140 minutes (including intermission)
Websites:
Story:
English National Opera's (ENO) cinema broadcast of Mike Leigh's production of The Pirates of Penzance is the UK's most successful opera on screen event, having taken in excess of 1.1M AUD at the UK box office so far, amounting to an audience of over 40,000 people, with encore repeat performances and international screenings still to take place. The Pirates of Penzance opens nationally in Australian cinemas from July 2015.

Fresh from the major success of his celebrated film Mr Turner, renowned filmmaker Mike Leigh makes his opera directing debut with this eagerly anticipated new production of sparkling comic masterpiece The Pirates of Penzance. In a hilarious performance where comedy and romance combine with surprising twists and turns, this popular farcical comedy features swashbuckling pirates, flat footed policemen, razor sharp satire and memorable melodies.

The Pirates of Penzance tells the story of the pirate apprentice Frederic and his love for Mabel, the daughter of Major-General Stanley who has the famous tongue-twisting patter song I am the very model of a modern Major-General. The song has featured or been lampooned within popular culture including The Muppet Show, Babylon 5, Frasier, Scrubs, Star Trek-The Next Generation, and Family Guy.

Olivier award-winning designer Alison Chitty designed the set and costumes. Lighting is by Paul Pyant with choreography by Francesca Jaynes. David Parry conducts. The cast includes Andrew Shore as Major-General Stanley, Robert Murray as Frederic, Jonathan Lemalu as the Sergeant of Police, Rebecca de Pont Davies as Ruth, Joshua Bloom as The Pirate King, Claudia Boyle as Mabel, Alexander Robin Baker as Samuel, Soraya Mafi as Edith, Angharad Lyddon as Kate and Lydia Marchione as Isabel.