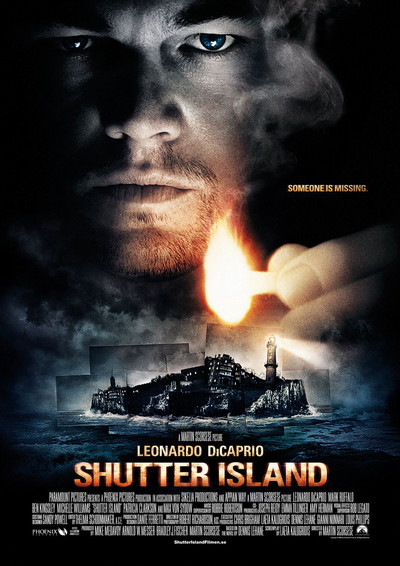 Director:
Martin Scorsese
Writer:
Laeta Kalogridis
Starring:
Leonardo DiCaprio, Mark Ruffalo, Ben Kingsley, Michelle Williams
Released:
February 18, 2010
Rating:
Runtime:
138 minutes
Websites:
Story:
The film, based on the novel "Shutter Island" by Dennis Lehane, is an atmospheric psychological thriller set in a 1950s asylum for the criminally insane. It's 1954, and up-and-coming U.S. marshal Teddy Daniels is assigned to investigate the disappearance of a patient from Shutter Island's Ashecliffe Hospital. He'd been gunning for an assignment on the island for reasons of his own -- but before long he wonders whether he hasn't been brought there as part of a twisted plot by hospital doctors whose radical treatments range from unethical to illegal to downright sinister.

Teddy's code-breaking skills soon provide a promising lead, but the hospital refuses him access to records he suspects would break the case wide open. As a hurricane cuts off communication with the mainland, more dangerous criminals "escape" in the confusion, and the puzzling, improbable clues proliferate, Teddy begins to doubt everything -- his memory, his partner, even his own sanity.
Cast:

Leonardo DiCaprio
Teddy Daniels
Mark Ruffalo
Chuck Aule
Ben Kingsley
Dr. John Cawley
Emily Mortimer
Rachel Solando
Michelle Williams
Dolores Chanal
Max von Sydow
Dr. Jeremiah Naehring
Patricia Clarkson
Ethel Barton
Jackie Earle Haley
George Noyce
Ruby Jerins
Little Girl
Elias Koteas
Andrew Laeddis
Ted Levine
Warden
John Carroll Lynch
Deputy Warden McPherson
Christopher Denham
Peter Breene
Curtiss Cook
Trey Washington
Nellie Sciutto
Nurse Marino
Tom Kemp
Ward C Guard
Joseph McKenna
Billings
Joseph Sikora
Glen Miga
Ken Cheeseman
Doctor 1
Drew Beasley
Henry
Dennis Lynch
Red Headed Man
Gary Galone
Gate Guard
Robert Masiello
Doctor
Damian Zuk
Elijah Tookey
Gregory Seymore
Soldier 1
Aidan Cole Mitchell
Teddy jr.