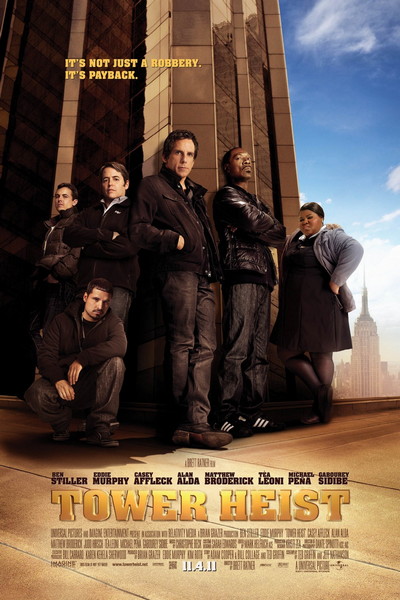 Director:
Brett Ratner
Writer:
Ted Griffin, Jeff Nathanson, Adam Cooper, Bill Collage
Starring:
Ben Stiller, Eddie Murphy, Casey Affleck, Matthew Broderick
Released:
December 26, 2011
Rating:
Runtime:
104 minutes
Websites:
Story:
Josh Kovaks has managed one of the most luxurious and well-secured residences in New York City for more than a decade. In the swankiest unit atop Josh's building, Wall Street titan Arthur Shaw is under house arrest after being caught stealing two billion from his investors. The hardest hit among those he defrauded? The tower staffers whose pensions he was entrusted to manage. With only days before Arthur gets away with the perfect crime, Josh's crew turns to petty crook Slide to plan the nearly impossible...to steal what they are sure is hidden in Arthur's guarded condo. Though amateurs, these rookie thieves know the building better than anyone. Turns out they've been casing the place for years, they just didn't know it.
Cast:

Ben Stiller
Josh Kovacs
Eddie Murphy
Slide
Casey Affleck
Charlie
Alan Alda
Arthur Shaw
Matthew Broderick
Mr. Fitzhugh
Stephen McKinley Henderson
Lester
Judd Hirsch
Mr. Simon
Tea Leoni
Special Agent Claire Denham
Michael Pena
Enrique Dev'Reaux
Gabourey Sidibe
Odessa
Nina Arianda
Miss Iovenko
Marcia Jean Kurtz
Rose
Juan Carlos Hernandez
Manuel
Harry O'Reilly
Special Agent Danszk
Peter Van Wagner
Marty Klein, Esq.